Duties and Responsibilities
About the C

lerk's Office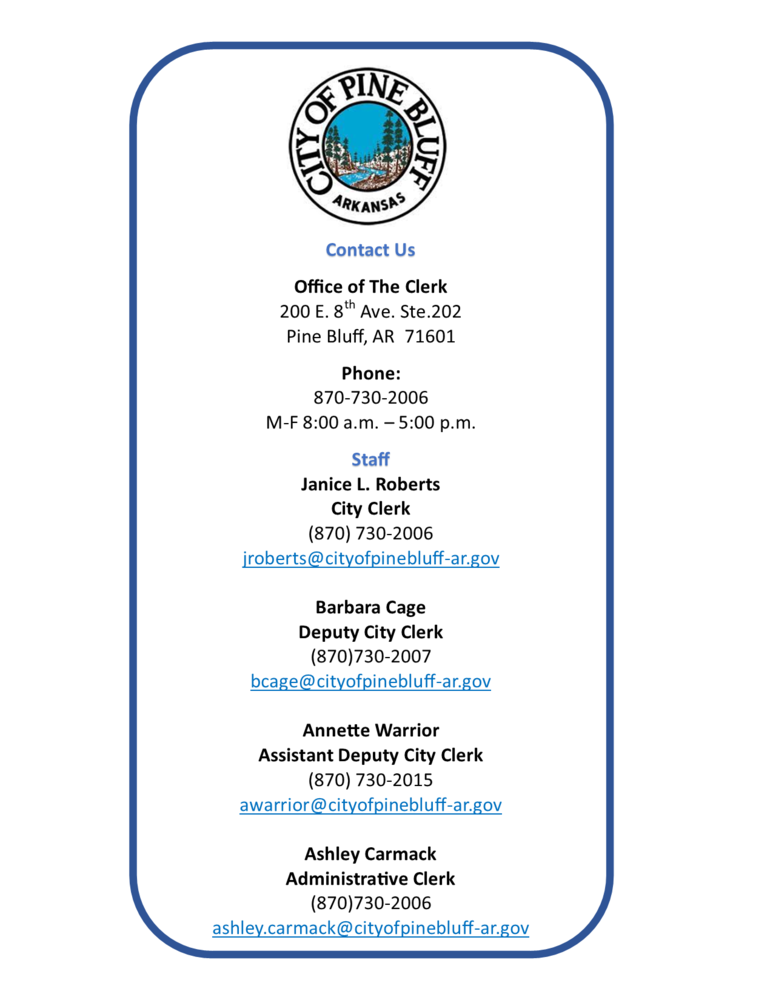 ---
The Pine Bluff City Clerk's Office is responsible maintaining records affecting
the day-to-day operations of the
City of Pine Bluff as well as check proces
sing of bills to various vendors used by City departments.
City Council
The City Clerk's Office provides clerical assistance to the Pine Bluff City Council. The office helps coordinate City Council Meetings by creating agendas and helps connect citizens to the council via public comments in those meetings. The office also records City Council meeting minutes and passed legislation.
Record Keeping
The City Clerk's Office is the records keeping center of the city. The Office records and keeps the minutes for the Pine Bluff City Council, the Non-Uniformed Employees' Pension Board, and the Firemen Pension Board.
City Expenses
All Pine Bluff incurred invoices are processed through the City Clerk's Office. The Office is responsible for ensuring that city expenses are paid in a timely manner. The Clerk's Office is the sole drop-off point of bids for city beautification, the purchase of city-owned lots, openings in city departments, and more. The Clerk's Office also houses financial reports in conjunction with check processing.
Records maintained by the City Clerk's Office include:
Ordinances

and

Resolutions

passed by the City Council

Contracts and Agreements between the City of Pine Bluff and service providers

Deeds of City cemetery plots

Mortgage papers from the City's First Time Home-buyer Assistance Program

Tapes and

Minutes

of the proceedings of the Pine Bluff City Council and various boards and commissions

Revenue Bonds

Information for the Non-Uniformed Employees Pension Board
Many of these records originated with the City in the late 1800s. The Pine Bluff City Clerk's Office intends to make as many of these documents available on-line as possible in the coming months. Hard copies are available in the Clerk's Office by filling out a Pine Bluff City Clerk's Office Information Request Form. There is a charge of 25 cents per page for this service.
You can also make an Information Request Online here.